Great Wisdom from Jerusalem
29/05/2023 | Na stronie od 30/05/2023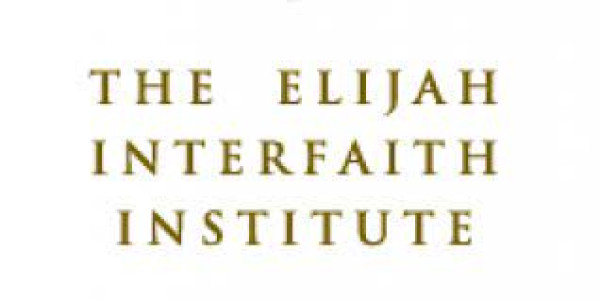 Source: The Elijah Interfaith Institute
Great Wisdom from Jerusalem
Three religious leaders from the Holy Land, one Christian, one Muslim and one Jewish, are featured in this newsletter. Together, they will be our local scholars-in-residence for the Summer School . (They will be joined by scholars from different parts of the world representing Buddhism, Hinduism and Sikhism, who will be featured next month.)
Bishop Shomali, who was also on the faculty of last year's summer school, is a significant figure in Christian religious life in Jerusalem and an advocate of peace and justice.
He was born in Beit Sahour (Palestine) and began his religious studies from a young age when he entered the Minor Seminary in Beit Jala. In 1972, he was ordained as a priest and served as vicar in Jordan before entering Yarmouk University to study English Literature. In 1980, he returned to the Holy Land in order to teach and a decade later, he resumed his studies in Rome, where he obtained his Doctorate in Liturgy.
Since then, he has served in academic and religious leadership positions in the Holy Land. On May 27, 2010 he was consecrated as Auxiliary Bishop of Jerusalem in the Basilica of Saint Catherine, Bethlehem and on August 15, 2021, he was appointed General Vicar and Patriarchal Vicar for Jerusalem and Palestine.
At a ceremony in the Church of the Holy Sepulchre he described those who dedicate themselves to the Church as a light, following Jesus' example of self-sacrifice. He explained, "The consecrated person is the one who has witnessed and experienced that only Jesus deserves to be loved first and served first; the one who has experienced that Jesus is the precious treasure who deserves to be acquired by selling all one's possessions. The consecrated person is the one who has experienced the beauty of the covenant with God."
With regards to the importance of our topic of "The Earth is not our Possession: Ten Days of [Climate] Repentance", Bishop Shomali says, "I would like to quote a Spanish proverb, applied by Pope Francis to the transgressions against nature and its continuous contamination: 'God always forgives, we forgive sometimes, but nature never forgives.'"
When one learns from Bishop Shomali, his wisdom, his humility and his great humour shine through. Elijah is honoured that he will join us multiple times to engage in our conversation and dialogue.
Qadi Muhammad Abu Obied is the Qadi of Baka al-Gharbiyye, one of nine Israeli Sharia` courts. Previously he served as Qadi (judge) in Nazareth. He earned a law degree at Essex University (U.K.) and a B.A. in Sharia law at the al-Qasemi Academy in nearby Umm el Fahm. Abu-Obied worked for 8 years as a lawyer and directed the Al-Mizan human rights organization for 4 years. Currently he lectures in continuing education courses for the Israel Bar Association and at Tel Aviv University in the field of Islamic trusts (awqaf). Qadi Abu-Obied was the senior Muslim representative who greeted Pope Bendict XVI when he visited Nazareth in 2009.
Qadi Abu Obied is frequently invited to comment in the media about current events. Easter, Ramadan, and Passover fall in the same calendar month roughly every 33 years, and this year was one of them. He described the timing as "is a beautiful opportunity that we have before us. An opportunity for followers of the three main faiths in the Holy Land to remember our relationship with one another while we fast, pray, worship, and practice good deeds together."
A regular at Elijah summer schools, often walking the streets of Jerusalem with participants, this year he will engage in a series of conversations with other scholars as well as teaching about Repentance from the basis of Islamic wisdom.
Qadi Muhammad Abu Obeid emphasises the communal nature of Islam and the responsibility Muslims have to care for the well-being of the less fortunate members of their communities. He notes that many ills in society emanate from the desperation of the miserable and poverty-stricken. The duty of Muslims, therefore, is to supply sadaqah and zakaat, two different forms of almsgiving in Islam, which "can help the poor and make a more balanced, peaceful and loving society." Islam "frees people from their selfish proclivities and puts them on a path toward altruism and human justice."
But what does Islam say about Climate Justice? That he will discuss at the summer school.
The third of our local scholars-in-residence is Rabbi Daniel Kohn, the rabbi of Bat Ayin, an orthodox Hassidic village in the Judean Mountains. Over the past 20 years he has taught hundreds of students, combining the world of Torah learning, Jewish mysticism and deep psychological insight, and has culled and developed effective techniques for personal and spiritual renewal. He is trained as a narrative therapist and life coach and teaches in various yeshivot and rabbinical programs.
His personal connection to the earth and to preserving the environment is highlighted by the meditation retreats he leads for laypeople, rabbis and educators in Israel, the U.S. and South Africa. He is a virtuoso clarinetist, composer and singer.
Rav Daniel was born in New York but moved to the south of the US as a child. There he played in classical and jazz ensembles before moving on to his college education at Columbia in NYC. Even before his university days, he had become interested in Jewish mysticism. He explained in an interview that he was seeking "a close and loving relationship with Hashem."
After studying at Columbia University and receiving degrees in philosophy and comparative religions, Rav Kohn was ordained as a Rabbi. He moved to Jerusalem and then to the village-community that he helped found and now leads.
He has participated in many Elijah programs and events including being a founding member of the Hermes Forum for the Interreligious Study of the Spiritual and Mystical Life. There, he augmented his verbal contributions with music that transcended language and touched the souls of all participants.
His calm, spiritual presence will add an important element to our shared learning at the summer school.
Rav Daniel's website can be found here.
The Sound of Rav Daniel Kohn
Teacher, spiritual guide, composer
Rav Daniel Kohn is a seasoned teacher of Torah, facilitator of thousands of hours of inspired classes, meditation retreats and personal growth courses for laypeople, rabbis and educators in Israel, the U.S. and South Africa. He is a virtuoso clarinetist, composer and singer. Rav Daniel hails from the south of the US where he played in classical and jazz ensembles before moving on to his college education at Columbia in NYC. From there he came to Israel where he studied under some of the premier rabbis of Jerusalem in over fifteen years of yeshiva learning while supporting himself and his family as a klezmer musician. He has been the Rabbi of Bat Ayin (a community south of Jerusalem) for over thirty years.