Polish Honor and Israeli Hypocrisy
22/02/2019 | Na stronie od 22/02/2019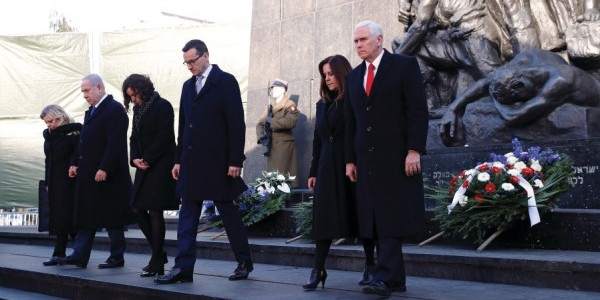 Israelis are demanding that Poland acknowledge that the Polish nation colluded with the Nazis in the murder of the Jews. This will never happen because it simply isn't true.
It wasn't hard to sense a bit of gloating following the Poles' decision not to attend the Visegrad summit in Israel, a move that got the event canceled. The work of the righteous is sometimes accomplished by... /Haaretz/
I had just finished jogging up Jerusalem's Jaffa Road near the Mahane Yehuda Market last week when my phone started to buzz. Between reading a series of tweets and WhatsApp messages – and trying to continue my Friday morning run – I learned that a crisis had erupted between Israel and Poland. It had one catch: The Jerusalem Post was caught smack in the middle.
On the Thursday afternoon the day before, Prime Minister Benjamin Netanyahu had spoken with Israeli reporters during a visit to the site of the former Warsaw Ghetto. He was in Poland for a Middle East summit hosted by the United States, with the participation of many Arab countries throughout the region with whom Israel does not yet enjoy formal diplomatic relations.
Reporters were not allowed to tape the briefing, but almost all walked away believing they had heard the same comment by Netanyahu: "The Poles cooperated with the Nazis" to kill Jews during the Holocaust.
Shortly after the briefing ended, our correspondent in Poland filed a story that almost immediately went online. It was quickly read by top Polish government officials – and they were fuming.
The Prime Minister's Office tried its hand at damage control. It contacted our reporter and asked that we remove the word "The," which insinuated that Netanyahu was referring to the Polish nation and not just "some Poles," as he later clarified. Netanyahu's spokesperson played a tape of the briefing for reporters in Warsaw, proving that he had never said the word "The." As a result, we, and other news outlets, immediately changed our stories.
By Friday morning though, the crisis was still raging. Changes to the story hadn't helped, and Netanyahu was still looking for a way to calm the Poles, who are sensitive about any claim that they were complicit – as a people – with the German Nazi regime.
That sensitivity led to the passing last year of a law making accusations of Polish complicity in Nazi war crimes a criminal offense. The law sparked outrage in Israel and the US, and was eventually changed and decriminalized. My feeling was that this time, too, Israel and Poland – close allies – wouldn't let such a mistake get between them.
ALTHOUGH WE had made the change to our story already late Thursday night, the government in Warsaw was still not satisfied. A tweet by a top official in the Polish president's office said that they had been told by Israel that the original Jerusalem Post report was an act of "intentional journalistic manipulation."
While this was not case – other news outlets also quoted Netanyahu as saying "The Poles" – Jerusalem needed someone to blame for the crisis, and the Post was the lucky choice.
The problem was that it didn't help. Polish Prime Minister Mateusz Morawiecki announced that he would not fly to Israel to attend a gathering of the Visegrad, a group of four eastern European countries – Poland, Hungary, the Czech Republic and Slovakia. Instead, he said, he would send his foreign minister.
At that point, it seemed that the crisis was finally over. On Sunday morning, the headline on our front page as well as on others in Israel was a variation of "Warsaw to attend Visegrad summit as crisis dies down."
But then, on Sunday night, newly appointed acting Foreign Minister Israel Katz went on TV and decided to deepen the crisis with Warsaw. Quoting former prime minister Yitzhak Shamir, Katz said: "The Poles suckle antisemitism from their mothers' milk… No one will tell us how to remember the fallen."
This was already too much. Poland accused Katz of racism and canceled the foreign minister's planned visit, which led to the cancellation of the entire Visegrad Group summit. While the leaders of the other three countries still came to Israel, they only conducted bilateral meetings with Netanyahu; there was no summit.
Putting aside Katz's complete lack of diplomatic decorum, it wasn't immediately clear why the Poles decided from the beginning to turn what Netanyahu had said into a crisis. He explained that he never said the word "The," which all news outlets, including us, had retracted. If so, I wondered, why the crisis?
A senior Polish official explained to me this week that in the Polish language, there is no word for "The." As a result, the problem for Warsaw wasn't that Netanyahu had been quoted saying "The Poles" but rather that he didn't qualify his statement by saying "some Polish citizens." Just saying "Poles" was enough to get their blood boiling.
Adding insult to injury, Netanyahu made his comments while in Warsaw – on the same day that he had received a huge gift from Poland in the form of its hosting the Middle East summit. From their perspective, giving Netanyahu a stage to sit on alongside foreign ministers from Yemen, Qatar, Saudi Arabia and Bahrain should have been appreciated in a more thoughtful way, especially when considering that Poland went against the rest of Europe by agreeing to host the conference. Talking about Polish collaboration during the Holocaust was not how they expected Netanyahu to show his gratitude.
Poland's anger grew when a slew of articles and opinion pieces followed, some in these pages. One in Haaretz, for example, cited a study by renowned Polish-Jewish historian Szymon Datner, which quoted him as saying that 200,000 Jews had been murdered by Poles. The problem was that the study, published in 1970, actually estimated the number to be 100,000, and concluded that another 100,000 Jews were likely saved by Polish people.
This altogether gets the Poles upset. Claims of complicity and collaboration on a national level are simply wrong, they stress. Some of what they claim is legitimate. Poland did not have a government during World War II, and could not have collaborated with Nazi Germany on a state or national level. Were there murderers among the Poles? Sadly, yes. But as the forest at Yad Vashem shows, there were also 6,863 Polish "Righteous Among the Nations," the most of any other country.
I am not a historian and cannot conclude what really happened. I know the stories told to me by my grandparents – both Polish survivors of Auschwitz – about the antisemitism they felt before the war, during the war and after the war. I also re-read this week the Yad Vashem report which sharply criticized the joint statement Israel and Poland put out in June in an attempt to quell the crisis over the controversial Polish Holocaust law. Yad Vashem said that the Israeli-Polish statement "contain[ed] grave errors and deceptions."
At the same time, I also recognize that Poland is an important ally for Israel in Europe. It is a country that a better diplomat than our novice foreign minister would have known how to handle. And while the stifling of debate over our tragic history is concerning, we need to recognize that life is complex.
Poland and Israel's future diplomatic ties are important, but they cannot be based on an erased past. In the weeks to come, leaders in both countries will need to find a path out of this crisis in a way that preserves Jewish history as well as Polish national pride.
That was how Netanyahu began his week. But he ended his week in no better a situation, after Benny Gantz and Yair Lapid merged their lists into the new "Blue and White Party." Alongside that duo are Moshe Ya'alon and Gabi Ashkenazi, making the list possibly the most militaristic in Israeli history.
The politicians' decision to put their egos aside and join forces is a positive development for Israel, whether you vote for the Right or the Left. For too long, the country's political landscape has been dominated by small and splintered parties. That situation gave parties with six, five or even just four Knesset seats the ability to extort exorbitant political benefit from whomever the prime minister was at the time, be it Netanyahu, Ehud Olmert, Ariel Sharon or Ehud Barak.
With the closing of the lists on Thursday night and the emergence of the new Blue and White Party, it became absolutely clear that these elections are about one issue and one issue only: do Israelis want Netanyahu to continue ruling this country?
There are those who will say yes and as a result, will vote for Likud or one of the other parties in the right-wing camp like New Right or Yisrael Beytenu. But there are also those who will say no, and who now have a viable alternative.
A head-to-head battle has its advantages for Netanyahu as well as for Gantz. For Netanyahu it means that if people want him as PM they will need to vote for him and him only. That has the potential to take votes away from Gantz – but also from the satellite right-wing parties, moving them to the Likud.
For Gantz though, this also has its pluses. If he is the main contender, then anyone in the Center or the Left whose first priority is to replace Netanyahu will have little difficulty deciding for whom to vote. A vote for Meretz is nice, but it won't achieve the ultimate goal of changing the government. Basically, if you want Netanyahu out, the strategic vote is one for Gantz.
How this plays out remains to be seen. With just under 50 days left until Israelis cast their votes on April 9, and a decision by the attorney general on the Netanyahu investigations expected soon, there is a lot that can still happen.
Blue and White, or Likud? From today, that seems to be the question.