Alon Goshen-Gottstein : Jews, Christians and Anti-Semitism - Querying Polish Reality
21/05/2019 | Na stronie od 21/05/2019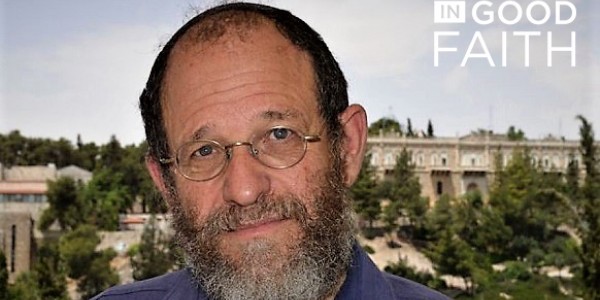 My Polish Experience
Poland was a wonderful surprise, a small love affair. My first visit to Poland, for an academic conference in Warsaw in 2005, was an eye opener. It was nothing like the Ukraine I had been visiting regularly for a decade. I experienced it as receptive to Jews, open, dialogical, self-critical. I had occasion to meet with Church leadership, notably with Krakow Cardinal Stanislaw Dziwisz, formerly Pope John Paul II's personal secretary, whom I had befriended in that capacity. I was appreciated as a visiting Rabbi, a friend, a representative of part of Poland that was honored and remembered in its absence, but always, so was my experience, honored and even loved.
This feeling of fraternity was repeated time and again. In 2008 I was invited to address hundreds of Catholic theology professors at a conference near Auschwitz. As the Jewish keynote speaker, I could feel the pulse of relations among this level of professionals. It was positive. More than positive.
In 2010 I was honored by the Polish Council of Jews and Christians as what they call a "figure of reconciliation". Poland celebrates an annual day of Judaism, where Judaism and its importance are preached in its Churches. Very few countries in the world practice this tradition. I had the honor of being the keynote speaker for that day, bringing the voice of Judaism and the memories of earlier encounters into the heart of Polish Christendom. Needless to say, the positive experience was reinforced.
In short, when my friend Yossi Klein Halevi talks about being in love with Poland, I know where he is coming from, why he says it and how it feels.
There has, of course, also been another side. People acknowledged anti-semitism still exists in part. A radio station called Radio Marya was transmitting messages that were the opposite of what I saw and felt. But these were presented as the exception to the rule, or at the very least, not as the norm.
Nearly a decade later, is this still the case?
Tensions between Israel and Poland have run high over the past year, relating to Poland's role during the holocaust period, and where the boundary between victim and perpetrator ran. A battle over contested memory is, in principle, a valid one, and there is room between friends to explore these issues in a spirit of open dialogue. But such a dialogue has not been successful. Now, it seems, we face another round of tensions, relating to the issue of restitution of Jewish property lost during the holocaust. National tensions spill easily into anti-semitic expressions. What do they tell us? Was I misled? Have things changed, or do light and shadow commingle in a way that is confusing, but not hopeless?
A message from the Polish Council of Christians and Jews, released on May 14th, has forced me to re-ask these questions with ever greater urgency. Here is the message.
Statement of the Polish Council of Christians and Jews
In recent weeks, tensions have intensified in Poland that give rise to our deep concern. In public life — and not only on its margins — statements attacking Jews keep appearing. Among the most shocking was the sermon of Bishop Andrzej Jeż, who quoted the accusations from 100 years ago, suggesting that the Jews planned to fight the Church and that this may explain current Church problems. Since these accusations were spoken in the presence of a large number of priests, one may be justifiably concerned that they are a sign of approval for anti-Semitic attitudes such as those known from pre-war times. This raises understandable fears on the part of Jews, as well as among those who do not agree with basing social life on hatred.
An event that has been widely reported in Poland as well as worldwide is the return, in Pruchnik, to the folk custom of flogging the likeness of Judas. Regardless of the fact that encouraging children to hit a human shape with sticks is a highly dubious educational method, the problem is that the image was presented as a stereotypical Jew, thus encouraging the beating of Jews. It was of course symbolic but one cannot avoid the question as to whether it is not shaping a mentality that facilitates aggression in reality.
There exists a real problem that is being used as an excuse. Namely, the current tensions that arise from the protests against the American Act 447, the JUST Act, which requires the US government to report on property lost by Jews in Europe due to the Holocaust. It arouses great emotions in Poland.
The problem of restitution is however much broader and concerns not only Jews. The deaths of millions of citizens during the war and transfers of millions of people after the war created enormous legal difficulties. This was not handled correctly either immediately after the war or after 1989 by the Polish authorities.
We understand the concerns of Poles living in homes that once belonged to others because they imagine the loss they could suffer as a result of restitution. It is also known that there are many fraudulent attempts to take over property by unscrupulous agents claiming to be acting on behalf of alleged Jewish heirs.
A particular strong controversy concerns the issue of ownerless property. We believe that full compensation would be too much of a burden for Poland. However, we also believe that the failure to take account of the loss of property due to the wartime murder of entire families contradicts justice. Many decades have passed and there seems to be no perfect solution. Nevertheless, some solution must be worked out by all interested parties. Compromise decisions, such as symbolic compensation, are conceivable. It requires good will on both sides.
Our despondency is due to the fact that current reactions in Poland go beyond protestations based on self-interest and encompass a comprehensive anti-Jewish attitude. We believe that this is unacceptable and brings to mind the least glorious periods of Polish-Jewish relations.
As Polish Christians and Polish Jews, we believe in a community that has shared biblical roots and a common life in our country. We appeal to politicians, clerics, journalists and other people who shape public opinion, to oppose behaviors that poison the atmosphere, promote hateful attitudes and blame Jews for all misfortunes. If current tensions and evil emotions continue to grow, unpredictable consequences threaten us all.
Asking the Hard Questions
As "concern" leads to "despondency" we must ask ourselves how helpful has the friendship between Christians and Jews in past decades been. Is it adequate to stem the tide of rising anti-semitism? Have things become worse due to the interference of foreign powers (specifically following legislation by US congress) or are we now seeing the "true" state of affairs in a country that has never engaged in a serious examination of conscience following its own history of persecution of Jews? Are we, professionals at dialogue and people of good-will, a hopeless band of optimists who demonstrate the possibility of friendship, but who nevertheless lack the power to bring about real change? The mixture of politics, religion and memory on the Polish side seems as confusing as the Israeli mix would seem to the outsider. In short, how much light still shines on Jewish-Christian relations in Poland (and other European countries) and at what point do we declare all our efforts to have been successful for individual participants but a failure for the community at large?
An Invitation
My journey to Polish reality has been facilitated by one of Poland's important Jewish voices, Prof. Stanislaw Krajewski. It was he who invited me to Warsaw in the first instance; it was thanks to him that I was honored in Poland. And it is he, as co-chair of the Polish Council of Christians and Jews, who co-drafted the statement above. I have shared my concerns with him. Now, I have shared them with my readers. I invite him to respond to these burdensome questions in his own voice. His blog post in response to this invitation will be featured soon. Stay tuned.
About the Author
Alon Goshen-Gottstein is the founder and director of the Elijah Interfaith Institute. He is acknowledged as one of the world's leading figures in interreligious dialogue, specializing in bridging the theological and academic dimension with a variety of practical initiatives, especially involving world religious leadership.