Konferencja ICCJ w Lund 2019 - przebieg
04/07/2019 | Na stronie od 04/07/2019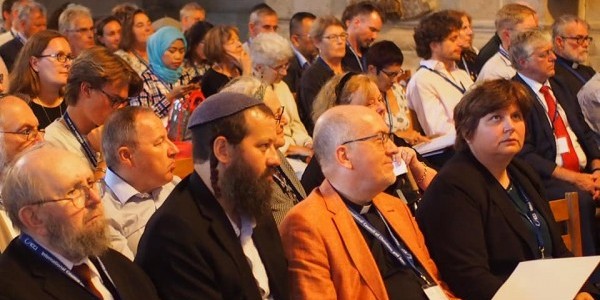 30.06.2019
The 2019 ICCJ International Conference is now officially open! Delegates from all corners of the world are welcomed to Lund by ICCJ President Bo Sandahl, Lund Mayor Mats Helmfrid and esteemed guest speakers and local religious leaders. Rabbi Moshe David HaCohen of Malmö quotes Abraham Joshua Heschel: No religion is an island.
01.07.2019
"From Conflict to Communion: The Impact of Ecumenical Reform Initiatives on Jewish-Christian Relations". Presenters: Cardinal Bishop Anders Arborelius (Sweden) Rabbi Prof. Dr Walter Homolka (Germany) Father Misha Jaksic (Sweden) Rev. Dr Bo Sandahl
"Nationalisms and Their Effects on Jewish-Christian Relations" Speakers: Hana Bendcowsky (Israel) Prof. Dr Mary Boys (USA) Prof. Dr Jesper Svartvik (Sweden) Moderator: Dr Pavol Bargár
This evening we have the pleasure of screening the award-winning Swedish film Every Face Has A Name in the presence of film-maker Magnus Gertten from Malmö. The film tells the story of Holocaust survivors seeing video footage of themselves arriving at the port in Malmö in 1945. Anonymous faces, feelings of confusion, relief, gratitude and happiness. Faces that carry stories of suffering and of survival.
02.07.2019
Allen Suleman delivers a Christian meditative moment, combining music in Urdu, Swedish and English. Born in Pakistan, Allen spoke of his Christian faith and the power of music and love.
03.07.2019 - The theme of today is Muslims in Dialogue.
Imam Morteza Rezazadeh from Iran, who is a member of the steering committee of the International Abrahamic Forum, plays Persian music as part of his meditative moment on the topic of prayer.
Conference delegates are enjoying a well-deserved lunch break, after which a number of workshops will honour the 10 year anniversary of the 12 Points of Berlin.
A recurring theme during the conference has been the dichotomy of Malmö and the Scania region of the past and the present. (On Monday night we screened the film entitled "Every Face Has A Name", and since yesterday we offer our delegates an exhibition about the Ravensbrück archives. Created by local students, the exhibition is currently on a tour around Sweden.)
Conference delegates are enjoying a well-deserved lunch break, after which a number of workshops will honour the 10 year anniversary of the 12 Points of Berlin.

Former ICCJ President Debbie Weissman: "Please share the insights of the 12 Points of Berlin with your local and regional communities".
A new educational guide is to be launched soon. For now, please visit the ICCJ Website to get acquainted with this important document.
Guests and observers share their insights. Points mentioned include educational resources, making the 12 Points of Berlin available to more people and broadening interreligious dialogue. Several buzz groups mentioned how their views of Malmö and Scania have changed for the better, and the Amanah project was highlighted as a beacon of hope and inspiration.
"We would like to take this opportunity to thank all who have taken their time to provide us with valuable feedback. Please don't forget to hand in your questionnaires!"
04-05.07.2019 - at the end:
People of religion have important knowledge that can benefit a secular society. This is particularly true when it comes to interfaith dialogue. People of no faith/religious affiliation may have knowledge and perspectives that can enrich those of faith. Fostering dialogue: listening, sharing and finding a common language. A common language that is one of openness and humility is a recipe for a fruitful dialogue. One of our first-time participants summarized our conference in the following way: "Interreligious dialogue (as practised by the ICCJ and its members) is an antidote to prejudice and violence". This year, we had the pleasure of welcoming both familiar and new faces. Among the new were adherents of a Christian Orthodox rite. We hope this is the start of a lasting friendship! Please consider sharing our posts to increase people's knowledge of interreligious dialogue! Thank you for your support.
The ICCJ would like to thank Katedralskolan in Lund for generously letting us borrow the Ravensbrück Exhibition. A special thanks to Anki, Marcus and Pontus for making this happen! Our conference participants valued this opportunity, and were impressed by the quality of the exhibition.