Coronaspection: Introspection I
01/06/2020 | Na stronie od 10/06/2020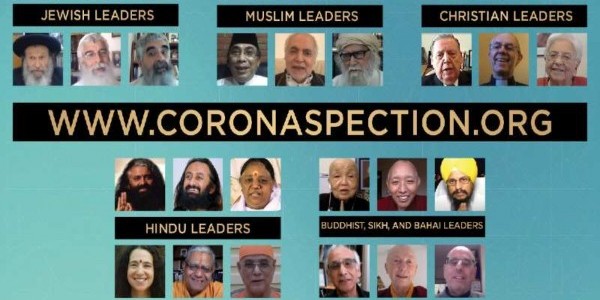 By Alon Goshen-Gottstein
There is a special power in the coming together of religious leaders in their diversity to deliver a message at a given point in time, especially a time of global crisis. Forty important voices are taking part in this project. I am grateful to editors of Tablet magazine for their eagerness to feature the project in its entirety.
Introspection I
Rabbi Berel Lazar, Russia
Rabbi Berel Lazar is Chief Rabbi of Russia and the emissary of the Chabad movement. Corona is an opportunity to practice trust in God. Positivity impacts our health and recovery if we were to get sick. We must trust that we will come out better people and more compassionate in our orientation. Corona places us before our limits and teaches us humility, and hence invites us to trust. Community shifts to the family and there is a discovery of how religion is practiced in the family. The message of the interview is encapsulated in a concluding song: I do not fear anyone; There is nothing besides God. Everything is God. Don't despair.
NOTE: Yesterday, June 7, news broke that Rabbi Lazar had himself been hospitalized in Moscow with the coronavirus. We wish him what we know he would wish for others: a complete and speedy recovery. Please pray for the healing of Shlomo Dov Pinchas ben Yehudit.
Patriarch Sahag II Mashalian, Turkey
Patriarch Mashalian is the recently elected Patriarch of the Armenian Patriarchate of Constantinople/Turkey. In Turkey, the Christian faithful pray at the same time as theminarets call for prayer, as a sign of union in praying for the sick across the world. Coronavirus unites us. We become brothers in sickness. It is an invitation to cultivate this unity at other times. The finest spiritual medicine at the moment for dealing with our fears is prayer. We should build up a storage of spirituality so we can use it at the time of need. Prayer brings us to spiritual consolation with the fullness of faith and a deep relationship with God. Our being is founded on God and the living God infuses us with the feeling of security. By reciting the Psalms we gain courage. The solitude forced upon still leaves us with freedom of choice: will we use it for distraction and entertainment or for spirituality and coming closer to God.
Swami Chidanand Saraswati, India
Swami Chidanand Saraswati is President of Parmarth Niketan Ashram in Rishikesh and the initiator of multiple ecological and humanitarian programs, relating to water, hygiene and care of rivers, nature and culture. Swamiji profiles the opportunities that Corona brings into our lives. Primary among them is the opportunity for spending quality time in the family. Swamiji also addresses head on the issue of domestic violence and its potential increase during lockdown. Being locked down is an invitation to gain inner freedom from shopping, to discover the coherence and meaning of our lives and to take up spiritual practices that in fact will boost our immune system. Our hearts must be open, even if our doors are closed and we must use this as an opportunity to deepen our sense of interconnectedness and care for nature and culture. Swamiji's way of teaching through word play combines potent and direct life messages with catchy phrases by means of which his message is delivered.
Alon Goshen-Gottstein, Executive Director of the Elijah Interfaith Institute, Israel, is the author of The Jewish Encounter with Hinduism: History, Spirituality, Identity.