An Interfaith, International Example of the Art of Dialogue: AJC's virtual Annual Forum
20/06/2020 | Na stronie od 20/06/2020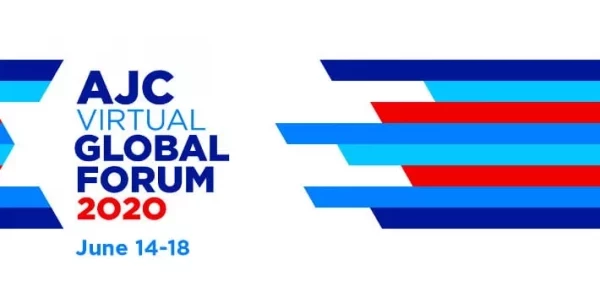 Source: La Stampa
LISA PALMIERI-BILLIG*
Aubiquitous side effect of the Covid crisis and lockdowns has been the dramatic switch from in person meetings and forums to virtual conferences multiplying participating audiences tenfold. AJC is no exception.
What was originally meant to be an international meeting in Berlin of historic significance by a 114 year old Jewish organization like ÀJC - the American Jewish Committee - on the 75th anniversary of the end of World War II, was transformed by the advent of the Coronavirus into an international virtual meeting of great poignancy, with an audience that grew from the usual hundreds and became thousands.
For 4 days, respectful civilized debates (a rare phenomenon these days) took place between outstanding diplomatic and religious leaders of our times from all sides of the political spectrum, often espousing contrasting ideas. Heads of state, prime ministers, foreign ministers and world religious authorities, as well as leading spokespersons for the vying viewpoints on international political issues – engaged in the debating of ideas without ever slipping into offensive language. The program unfolded in harmony with AJC's firm belief in authentic non-partisan advocacy, aimed at safeguarding the Jewish people and all other minorities from discrimination and persecution, and upholding the basic democratic values of equality, freedom and justice. By the same token AJC defends Israel's right to exist in security and peace, the principles of freedom of thought, and feels an obligation to listening and hearing all significant ideas in the intellectual marketplace.
In pointing to AJC's opposition to shutting out contrary views, David Harris, the organization's CEO said, "We need to bring people together without excluding the other side, and acknowledge that there may be more than one way of looking at things. One may disagree with public officials but they deal with issues that are vital to us. Therefore we need to talk" said David Harris, CEO of AJC:
Guest speakers, all of whom have ongoing relations with AJC, included international religious authorities such as Mohammad bin Abdualkarim al-Issa, Secretary General of the Muslim World League; Anwar Gargash, Minister of State for Foreign Affairs of United Arab Emirates and Bawa Jain, Secretary General of the World Council of Religious Leaders. They all declared their deep commitment to the future of the Jewish people, to preserving the memory of the Holocaust and reinforcing relations based on common values. UAE Minister of Foreign Affairs Anwar Gargash, whose Emirates, despite political disagreements and the absence of diplomatic relations, cultivate ongoing relations with Israel and interreligious dialogue. In Qatar a building complex with a church, a synagogue and a mosque was recently inaugurated.
Heads of State at the virtual conference included Angela Merkel, the Federal Chancellor of Germany; Mike Pompeo, U.S. Secretary of State; Kyriakos Mitsotakis, Prime Minister of Greece; Edi Rama, Prime Minister of Albania; Benhamin Gantz, Alternate Prime Minister and Minister of Defense of Israel, Heiko Mass, Foreign Minister of Germany. Ambassadors and leading parliamentarians such as Wolfgang Ischinger from Germany. Ambassador Dore Gold – a seasoned Israeli diplomat and Merev Michaeli of the Labor Party who compared highly different positions on "The Future of the West Bank" while other controversial issues such as "The Hate Speech Debate: Should Free Speech Be Limited?", and "Election 2020: Debating American Values and Interests" were civilly argued, the former by Dan Shefet and Natine Straussen, the latter by Antony Blinken of the Democratic party who had served as Deputy Secretary of State under President Obama, and the Republican Party's KT McFarland, U.S. National Deputy Security Advisor (author of "'Revolution': Trump, Washington and 'We the People'") .
AfroAmerican congressman Cory Booker gave a moving, very personal account of racial discrimination in the U.S. while it was announced that to further expand AJC's efforts to combat racism, two new regional offices would be set up in Louisville, Kentucky and the Twin Cities of Minneapolis and St. Paul in memory of George Floyd and Breonna Taylor, both recently murdered by the police. This will be an additional step, after AJC announced at last year's Global Forum the formation of the "Congreessional Caucus for Black Jewish Relations" and the "Community of Conscience".
"Democracy is not as solid and stable as people might think," said David Harris. "It needs to be vigorously defended each and every day."
At the Sunday June 14 opening session, Chancellor Angela Merkel confessed that she had been "deeply moved that AJC was planning to hold its Global Forum in Berlin, moreover in the 75th year after the end of the Shoah - the betrayal of all civilized values". She recalled that AJC was the first Jewish organization to seek contact with the recently funded Federal Republic of Germany following the Holocaust, which she defined as "the most terrible crime ever perpetrated against humanity "
David Harris summarized the rationale of AJC's outreach to Germany so soon after the end of World War II and its continued relations leading up to the decision to hold this year's Global Forum in Berlin. In an interview to "Die Welt", he stated, "In the wake of the unprecedented tragedy of the Holocaust, it was anything but obvious that a Jewish group would seek to engage postwar Germany. But that's exactly what AJC, alone among global Jewish organizations, did. ...Why? It was certainly not for lack of understanding of what happened during the 12-year reign of the Third Reich.... Rather, it was for one simple reason: AJC leaders understood that Germany could not be wished into oblivion, any more than it could be transformed into a permanently weak, agricultural country, as some American officials unsuccessfully tried to persuade the White House at the time. Sooner or later, Germany would re-emerge on the European and global stages. Would that Germany be another tyrannical, aggressive nation, triggering yet more war, or would it be a democratic and peaceful country, cooperating with its neighbors and contributing to a more stable world? The answer was anything but obvious in the 1940's. AJC leaders at the time grasped the essential fact that they could not sit on the sidelines and wait for the unfolding of history...."
"Over the next seven decades, step by step, a remarkable story developed. It began as an effort, with the help of the American Occupation authorities, to introduce programs for Germans on democracy, mutual respect, de-nazification and antisemitism. "Harris recalls that it was not easy and there was still much opposition: "...not every German was prepared to renounce overnight the ideology.... or take lessons from Americans, much less American Jews...."
"But with the passage of time, and the help of inspired leaders, including notably, Chancellor Konrad Adenauer, the first signs of progress were achieved".
AJC's philosophy of reaching out to those leaders and forces open to dialogue and to building enduring, fruitful alliances based on common values, even where the overall majority looks bleak and hostile, has been enacted with success under many circumstances in the belief that by nourishing sparks of light, the light will spread to ever wider areas.
In this context, the virtual Global Forum also included some noteworthy testimonies from the Arab and Islamic world. At the opening ceremony, Mohammad al-Issa, Secretary General of the Muslim World League recalled leading a recent delegation of 62 high level Muslim scholars from over 28 countries who visited Auschwitz together with AJC leaders. "On that memorable day, he said, I stood alongside my Muslim and Jewish brothers, united in resolve and said: Never again. The horrors of the Holocaust must never be repeated or forgotten." He declared that Jews and Muslims must unite to fight antisemitism, islamophobia and all forms of discrimination and violence against anyone. "We possess inherent values - intrinsic commonalities - that bind us together as human beings, irrespective of race, religion, gender, nationality, ethnicity, or any other such category. We know only too well the danger posed by extremists of all types who seek to exploit instability to promote hatred and violence... The only way we can defeat this common enemy is by coming together and acting as one, building bridges of dialogue and cooperation guided by a logic that is just and comprehensive."
On Tuesday, June 16: Anwar Gargash, the United Arab Emirates' Foreign Minister addressed the Forum on "a New Middle East", which he maintains, can only come about by including Israel despite political differences, thus setting an example for other Arab countries. AJC maintains ongoing relations with the UAE. A recent interview with the UAE's Ambassador to the U.N. (who received her PhD in Jewish Studies) can be found on AJC's internet site under the webinar series called "Advocacy Anywhere".
Setting the stage for all the sessions were the moving, brief testimonies from AJC leaders and staff who as Holocaust survivors, their children and grandchildren tell their family stories. The section is called "1933 - 45. Three generations remember." AJC's President, Hariett Schleifer, in recalling the wartime suffering of her parents revealed that the commitment of her entire life has been shaped by these memories and the need she feels to act to defend the Jewish people along with all others who need defense against injustice. This same commitment marked the narratives of all.
Representative in Italy and Liaison to the Holy See of AJC (American Jewish Committee)