Fundacja Zapomniane
09/07/2020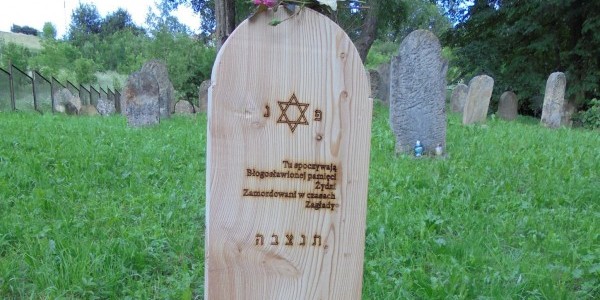 Źródło: Fundacja Zapomniane
Fundacja Zapomniane was created in June 2014 by the members of the Rabbinical Commission for Jewish Cemeteries in Poland, supervised by the Chief Rabbi of Poland. The prime framework of reference, within which the Foundation operates is the Halacha – Jewish Religious Law. Not only it imposes specific obligations and restrictions, but also defines the Foundation's main priorities. According to the Halacha the remains of the deceased person are bound intrinsically with their soul. Therefore whatever disturbance of the bones means the disturbance of the soul. One of the statutory tasks of the Fundacja Zapomniane is a search for the forgotten graves of Holocaust victims, delineating the borders of a grave as precisely as possible and restoration of identity taken away by their tormentors.
Commonly, our work focuses on the graves of Jews who were not sent to death camps, but were murdered, when the ghettos still existed, during Aktion Reinhardt and after; Jews who lay buried in nameless graves scattered in the woods, roadside ditches, arable fields etc. In most cases their number and exact location are unknown, both to researchers and descendants of victims, although they often exist in memories of the last living witnesses of the Holocaust and broadly defined local communities. To achieve this goal various tools are being used, for example ground penetrating radar (GPR), airborne laser scanning, and comparative analysis of contemporary and archival aerial pictures, and historical documents. Nonetheless all those sophisticated methods would be of no merit had we first not heard a testimony of an eyewitness indicating the area for us to investigate. Once again it is worth underlining the importance that "human factor" plays in our work, which confirms the thesis that for seventy years the local communities have kept the memory about the fate that had befallen their Jewish neighbors.
Agnieszka Nieradko – Head of department of Jewish war graves at the Rabbinical Commission for Jewish Cemeteries and President of the Zapomniane Foundation.
Since 2009 Agnieszka is responsible for research and commemoration of Jewish war graves in Poland. Her tasks include conducting interviews with Polish witnesses of the Holocaust, initiating archival queries on records of killing sites at Polish and foreign archives, organizing and leading lectures on Holocaust memory at local Polish middle schools. Since 2014 Agnieszka is president of the Zapomniane Foundation, where she is co-creating an internet database of Jewish war graves and prepares commemorative ceremonies.
Research
The project will involve new research into relationships between the destruction of property by Nazis and their collaborators, and the use of religious spaces as killing sites.
We will explore spatial and temporal patterns of cultural destruction, and we will examine the ways in which Jewish cemeteries were damaged, re-used and erased during the Second World War and since.
We will consider the motivations behind the destruction of Jewish cemeteries and we will identify and analyse the variation in their treatment across different geographical areas.
We will then undertaken a number of social action projects at Jewish cemeteries
View more information about our chosen sites
Learn more about the project's methodology and outputs