A Guide to Jewish Cemetery Preservation in Western Ukraine
09/07/2020 | Na stronie od 09/07/2020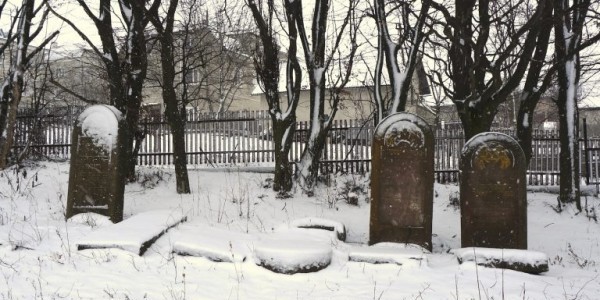 Best Practices and Resources for Jewish Cemetery Preservation in Western Ukraine
Ця сторінка також доступна українською.
This website provides information and guidance to assist leaders, activists, and volunteers in the care and rehabilitation of Jewish cemeteries in western Ukraine. Included here are "best practices" (processes, methods, tools), plus a collection of resources (texts, websites, videos) relevant to the work, selected case studies of local and other cemetery projects, and links to independent organizations working to document Jewish cemeteries in the region. Although the guide has been developed for the specific needs of Jewish cemeteries in western Ukraine, portions of it may benefit individuals, organizations, and projects beyond the region and in other areas of heritage preservation and care. The information has been pulled from a broad variety of foreign and domestic resources working in a number of different disciplines.
This guide and its web publication is a result of a research project led by Marla Raucher Osborn for Rohatyn Jewish Heritage (RJH), a Ukrainian non-profit NGO, and supported by the US Fulbright Scholar Program during the 2019-2020 academic year. Information resources and recommendations in the guide come from the cemetery project experience of RJH during its first decade, significantly amplified by the expertise of individuals and organizations who have have partnered with and generously advised RJH over the past years; we are pleased and grateful to acknowledge their help throughout this website. Together we recognize the regional Jewish cemeteries as shared cultural heritage which bridges between the contemporary local communities, the families of Jewish people who have lived in these places, and the world.
The guide is informal, and of course its use is entirely optional; others leading similar projects to RJH in the region may have specialist knowledge which differs from and/or exceeds the advice and resources presented here. We hope that others with such knowledge will share their expertise. Reviewing the case studies presented here, and especially the state of many Jewish cemeteries presented in links here, demonstrates that the regional challenges in this field are huge; activists here need all the help they can get.
Use the menu at the top of each page to navigate directly to topics of interest, or browse the information by selecting one of these overview pages:
Ця сторінка також доступна українською.
This core section of the website aims to gather and distill diverse guidance from a wide variety of disciplines and sources, and from hands-on experience plus the advice of academics and professionals, to present best practices in heritage preservation applicable to Jewish burial sites in western Ukraine. The processes, methods, and tools presented in this section are intended to fill gaps in the knowledge and skills of the people most likely to do this work: volunteer heritage workers, typically including both local Ukrainian civil society activists and foreign descendants of the Jewish families who once lived in the area. Despite significant differences in cultural perspectives, all people and organizations with a stake in the protection of regional historical sites recognize Jewish cemeteries as shared cultural heritage, and as an asset which plays a role in individual and community identities. Rehabilitating, promoting, and preserving these sites often requires resources and capabilities beyond what ordinary laypersons can summon; the scope of the need in western Ukraine, in both the number of desolate Jewish burial sites and their current physical condition, is enormous.
This guide is created primarily by and for non-professionals, adapting in selected areas the knowledge, skills, and experience of academics and practitioners each in their areas of expertise. Wherever possible we have directly incorporated the experience and lessons learned from activists in western Ukraine, knowledge usually gained through trial and error. The presentation is informal, suggestive rather than prescriptive, intended to stimulate reflection, discussion, and feedback. The guidance provided here will not be useful to all new projects in the region; the breadth of issues raised for consideration likely will be. Other activists working in the region and beyond will have different and possibly better knowledge on many aspects of this guide, which we hope can be shared and incorporated into this website in the future.
An important feature of these guide pages is the variety of project examples with brief descriptions and illustrations, taken from sites in the region and abroad. These examples may highlight risks, suggest alternative solutions to problems, or simply serve as inspiration to initiate a new project.
An Outline of Typical Project Phases
Rehabilitation, commemoration, and preservation projects at Jewish cemeteries in western Ukraine can be simple and narrowly scoped or large and multifaceted, depending on the existing site conditions and the vision and resources of the project managers. Projects with multiple components generally benefit from conceptualizing and planning the whole, while dividing the implementation into phases. These phases may overlap in time, and often must. The guide pages linked here are similarly divided into thematic topics, which for some projects will align reasonably with work phases. However, some projects will appropriately address only a single theme, and no project will follow the sequence below exactly in its progression from assessment and conception to sustaining and communication. For nearly every project, the issues of one theme will interact with those of another and with the overall project concept and plans. Activists and project managers are encouraged to review each of the guide pages before setting project plans into action.