Abortion and Judaism
The Jewish position on abortion is nuanced, neither condoning it nor categorically prohibiting it.
26/10/2020 | Na stronie od 26/10/2020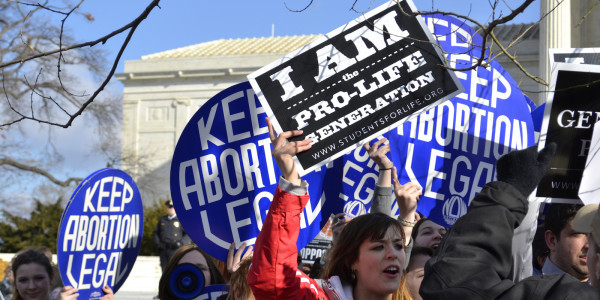 From: My Jewish Learning
More:
Beliefs & Practices
by MJL
Abortion is one of the most contentious issues in American politics, and since the landmark 1973 Roe v. Wade Supreme Court decision legalizing abortion nationwide, the issue has been a top concern by activists on both sides in assessing both Supreme Court nominees and political candidates. The anti-abortion cause has been embraced by many religious Christian groups, including the Catholic church.
Most American Jews strongly support legalized abortion: A 2015 Pew Research Forum survey found that 83 percent of American Jews, more than any other religious group, say abortion "should be legal in all/most cases." However, Judaism's position on abortion is nuanced, and both principal camps in the American debate over abortion rights can claim support from Jewish texts.
Is Judaism "pro-choice" or "pro-life"?
While Judaism takes a far less stringent approach to abortion than do many pro-life denominations of Christianity, providing explicit exceptions for threats to a mother's life and rabbinic support for terminating a pregnancy in a host of other situations, there is nonetheless broad objection to abortion in cases without serious cause. In addition, despite the consensus that abortion is permitted in cases where continuing the pregnancy poses a threat to the life of the mother, there is disagreement over just what constitutes a threat.
Jewish law does not share the belief common among abortion opponents that life begins at conception, nor does it legally consider the fetus to be a full person deserving of protections equal those accorded to human beings. In Jewish law, a fetus attains the status of a full person only at birth. Sources in the Talmud indicate that prior to 40 days of gestation, the fetus has an even more limited legal status, with one Talmudic authority (Yevamot 69b) asserting that prior to 40 days the fetus is "mere water." Elsewhere, the Talmud indicates that the ancient rabbis regarded a fetus as part of its mother throughout the pregnancy, dependent fully on her for its life — a view that echoes the position that women should be free to make decisions concerning their own bodies.
At the same time, feticide is prohibited by Jewish law, though there is disagreement over the exact source of this prohibition and how serious an infraction it is. Some consider it biblical in origin based on a verse (Genesis 9.6) that prohibits shedding the "blood of man within man" — a phrase understood to refer to a fetus. Moreover, Judaism teaches that the body is ultimately the property of God and is merely on loan to human beings. Multiple prohibitions in Jewish law— including prohibitions on suicide, getting tattoos and wounding oneself— collectively serve to reject the idea that individuals enjoy an unfettered right to make choices regarding their own bodies.
As a public policy matter, many of the major American Jewish organizations have been vocal in support of broadening or protecting abortion access. Orthodox organizations, however, do not support broad legal protections for abortion.
Does Jewish law ever explicitly permit abortions?
Yes, but only under very limited circumstances. The most common situation, explicitly described in the Mishnah, is where the mother's life is imperiled by her pregnancy. Some consider such an abortion not merely permissible, but mandatory. However, once the baby's head has emerged from the mother (some authorities say the majority of its body, some say merely any limb), termination is no longer allowed, since Jewish law does not permit sacrificing one life to save another.
Short of clear threats to a mother's life, the permissibility of abortion is controversial in Jewish texts. There are Orthodox rabbinic sources that support abortion when a mother's health is in danger even if her life is not at risk; when a fetus is conclusively determined to suffer from severe abnormalities; when a mother's mental health is in danger; or when the pregnancy is the result of a forbidden sexual union. However, these rulings are not universally accepted, and many Orthodox rabbis are cautious about laying down firm standards, insisting instead that cases be judged individually.
The Conservative movement is somewhat more lenient in all these cases, explicitly understanding threats to a mother's life as extending to psychological threats to her mental well-being. In 1983, the Conservative movement's rabbinical authorities permitted abortion only "if a continuation of pregnancy might cause the mother severe physical or psychological harm, or when the fetus is judged by competent medical opinion as severely defective."
The Reform movement has historically taken a similar approach. In 1958, the movement's rabbinate determined that abortion is permitted for sake of the mother's mental well-being if there is "strong preponderance of medical opinion that the child will be born imperfect physically, and even mentally." In 1985, the psychological justification was explicitly extended to cases of rape and incest, while emphasizing opposition to abortion for "trivial reasons" or "on demand." In published responsa, the movement has rejected abortion in cases where the birth might pose hardships for other family members. At the same time, both the Reform and Conservative rabbinates have been vocal in support of keeping abortion legal and accessible.
Is abortion discussed in ancient sources?
The Torah does not address the issue directly. The principal biblical source for Jewish law on abortion is a passage in Exodus (Exodus 21:22-23) concerning a case in which two men are fighting and injure a pregnant woman, causing her to miscarry. The verse states that if no other harm is done, the person who caused the damage must pay compensatory damages, but if there is further harm, then he should pay with his life. The common rabbinic interpretation is that if the only harm that comes to the woman is the loss of the fetus, it is treated as a case of property damage — not murder.
The later rabbinic sources address the issue more directly, beginning with the Mishnah referenced above. Elsewhere, the Mishnah says that if a pregnant woman is sentenced to death, the execution can go forward provided she has not yet gone into labor, a further indication that Jewish law does not accord the fetus full human rights prior to birth. What about contraception?
The strictest Jewish approach to contraception holds that any interference with pregnancy constitutes a violation of the commandment in Genesis to be fruitful and multiply. However, there are various circumstances in which some types of birth control would be allowed by Orthodox authorities, among them threats to a woman's emotional well-being if she were to bear children. There is also generally more leniency to limit family size once a man has fathered at least one child of both genders. In all cases, Orthodox couples are urged to consult with a rabbi about family planning issues.
The Conservative movement permits contraception provided there is "a compelling physical or emotional well-being justification." It allows contraception for general family planning purposes, but rejects it for financial reasons or as a matter of convenience and strongly encourages Jewish couples not to delay parenthood.
Jewish law also has clear preferences about particular methods of contraception. Vasectomy is traditionally prohibited because it's a form of sterilization, a position affirmed by the Reform movement in 1984. Condoms are traditionally not allowed because they result in the wasting of male seed. Since the obligation to reproduce traditionally is understood to apply only to men, methods employed by women are generally less objectionable. Hormonal contraception ("the pill") and intrauterine devices (IUDs) are typically considered the most preferable methods, according to both Orthodox and Conservative rabbis. Here, too, couples concerned about complying with traditional rulings are urged to consult with a rabbi, as circumstances may dictate which methods are acceptable in particular cases.
As a public policy matter, major Jewish organizations have long been in favor of broader access to reproductive health services, including contraception. Hadassah, the Anti-Defamation League and the Conservative and Reform movements have all been vocal on the issue, including filing amicus briefs in relevant court cases. All four groups expressed disappointment with the Supreme Court's 2014 ruling that corporations are exempt from providing contraceptive coverage under the Affordable Care Act if their owners object to such coverage on religious grounds. The Orthodox Union and Agudath Israel of America, in contrast, praised the ruling.
Are Jewish groups politically active on the issue of abortion?
Yes. The Reform movement has long been vocal on the issue of legal abortion and reproductive rights. In 1967, before Roe v. Wade made abortion legal nationwide, the movement's rabbinic association urged the "broad liberalization of abortion laws," and explicitly mentioned cases of a mother's endangered mental health and pregnancies resulting from sexual crimes. The movement has reaffirmed that position multiple times over the years, while its Washington advocacy arm has been active in countering efforts to restrict abortion access.
The Conservative movement's rabbis have also adopted numerous resolutions urging abortion access, most recently in 2012 when it called on its members to support access to the "entire spectrum of reproductive healthcare" and oppose legislation conferring legal rights on fetuses.
Various non-religious Jewish groups have also been active in support of abortion access, including the National Council of Jewish Women, Jewish Women International, Hadassah and the Jewish Council for Public Affairs. The American Jewish Committee and the Anti-Defamation League have both joined amicus briefs filed with the U.S. Supreme Court in support of abortion access.
Orthodox organizations, in contrast, do not support broad legal protections for abortion. The Orthodox Union has routinely dissented from Jewish Council on Public Affairs statements supporting abortion access. The ultra-Orthodox Agudath Israel of America has also spoken out against a permissive approach to abortion, but the group has also opposed restrictive measures that don't allow for religious exceptions. In 2016, the organization objected to two Ohio bills restricting abortion access that did not provide exceptions for cases where a mother's life is threatened.
Are there any Jewish organizations focused exclusively on the issue of abortion?
Yes, a Sewickley, Pennsylvania-based group called the Jewish Pro-Life Foundation, has sent people to pro-life demonstrations and offers a free "post-abortion healing program" for Jews who regret having had abortions. It also encourages people to recite the Mourner's Kaddish for loved ones "lost through abortion," and refers women who are pregnant to adoption agencies. Is abortion legal in Israel?
Yes. All Israeli women seeking to terminate a pregnancy (and have it paid for through state health insurance) must appear before a three-person committee, but in practice nearly all requests are granted. There are no laws limiting when an abortion can be performed, and a woman whose request is denied by the committee can still seek an abortion at a private clinic. Estimates are that about half the abortions performed in Israel are done in private clinics. As of 2014, abortions were paid for entirely by the state for women aged 20 to 33, and subsidized abortions were granted for those outside that age range.