Elijah Interfaith Institute: 2022 – The Year in Pictures
20/12/2022 | Na stronie od 20/12/2022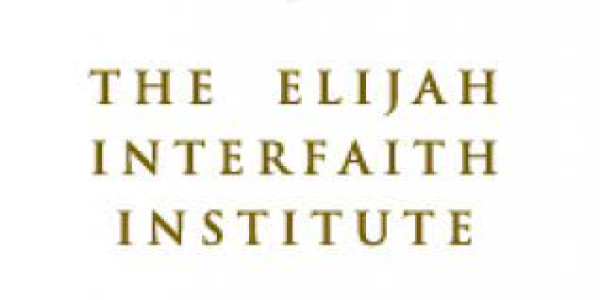 Source: Elijah Interfaith Institute
The War in Ukraine
London - in conjunction with COP 27
Summer School
Praying Together in Jerusalem
It's been a very very rich year at Elijah. Looking back, I'm overwhelmed by the great moments, the enormous outreach, as well as by the deep moments spent in more intimate settings. For the final issue of Wisdom, we'd like to remind ourselves, and you, of all the blessings that were channeled through Elijah's work, worldwide.
Be a part of the blessing and help us to continue being instruments for it. Support Elijah as part of your end of your giving.
The War in Ukraine
We were blessed to launch the
First ever interreligious solidarity visit to a war zone
First ever performance of religious leaders in a theatrical setting
First ever interfaith event transmitted on television throughout a nation
In times of crisis, friendship and solidarity are offered. Elijah Interfaith Institute's vision of "Friendship Across Religions" finds concrete expression in the solidarity mission of faith leaders, of all major faith traditions, to Ukraine. A high-level delegation of religious leaders will pay a historic visit to refugee camps and the city of Chernivtsi, Ukraine. Scroll down for a list of participants.
The leaders will visit the Chernivtsi region and surrounding encampments to demonstrate friendship, offer comfort, and share experiences of maintaining spiritual well-being under distressing circumstances.
As part of this visit, a public event will be held in the city's main theater, where the faith leaders will address refugees and other citizens impacted by war. Their words will be accompanied by live musical interludes from faith institutions outside the Ukraine, testimonies from refugees, and interactions with audience members. This will be the first public event permitted at the theater since the war began.
We invite you to follow this unique pilgrimage of friendship, to be inspired by the testimony it offers and to become part of the journey. View our live stream. Religious Leaders: Affirm the Declaration of Friendship Across Religions. All supporters – lend your voice.
STREAM
Details on how to view the event on April 12 will be available here in the coming days.
FOR FAITH LEADERS
The Friendship Pilgrimage takes place as a concrete expression of the vision of Friendship Across Religions and the Invitation to Friendship (Declaration).
We invite religious leaders of all faiths to join us virtually, by endorsing the declaration and making themselves present in our pilgrimage. Registering here will enable us to feature your name, so that there is a visible mass of religious leaders worldwide, who join us in spirit and prayer as we enter Ukraine We would be honored to serve as your representatives on this pilgrimage of friendship.
THE INVITATION
A world beset by fear of the other, indifference to the other and the widespread practice of hate, is a world in which no one can flourish. Now, more than ever, there is a need for greater unity, solidarity, common purpose and common action if we are to survive, and even more so if we are to flourish. We therefore invite all religious leaders and teachers, and all people of faith, to cultivate a practice of friendship to others, across the divides that have kept many religious communities apart for centuries, respecting and embracing the difference of the religious other.
By practicing friendship we grow together in the values for which our traditions have aspired, internally: respect, care, understanding, sharing, mutuality, and collaboration. We seek to change the ecology of relations, so that these qualities are also applied between diverse faith communities.
THE COMMITMENT
As religious leaders and teachers of religious communities: We commit ourselves to practice, study, and encourage the practice of friendship across religions, extending it further to friendship beyond religion, and to our common home, as friends of the planet. We commit ourselves to set examples of interreligious friendship for our communities to follow. We commit ourselves to make visible gestures of friendship with leaders or members of another tradition. We commit ourselves to offer teachings that will uphold the value of friendship between religions and to disseminate them within our traditions. We commit ourselves to adapt this broad vision to the particular language and beliefs of our traditions and to their needs. We commit ourselves to establish and support educational frameworks and programmes within our traditions and institutions that will provide opportunities to enhance genuine understanding of the religious other and the cultivation of friendship. We seek a wiser and better informed practice of our own faith as well as wiser understanding of the faith of the other. We commit ourselves to create a climate that is conducive to the spread of friendship, including support for religious freedom. Our commitment is expressed publicly by signing this declaration and recommending the practice of friendship both to leaders and to members of our communities, thereby making this declaration more than just another statement to be signed.
THE PRACTICE OF FRIENDSHIP
Friends learn to know each other, practice solidarity in times of need, and speak out for one another. Friendship is built on loving, sharing, listening, and respect. Friends pray for one another, deepening their friendship and lifting it up in the sight of God.
By risking friendships across deep differences we can help to heal our world's divisions and conflicts. By entering into the wisdom of each other's traditions, we can deepen mutual understanding and sensitivity.
Friendship across religions calls us to bring to light the higher virtues of our traditions and to practice them generously.
Friendship across religions can empower and give shape to a quest shared by many religions to work towards the preservation of the earth, our common home.
Friendship across religions allows us to draw on the accumulated wisdom and understanding of friendship found in our respective traditions and to make it available for the common good.
Finally, as we recognize from our experience, friendship is to be treasured for its own sake, and is a source of pleasure, joy, laughter, enrichment, inspiration, growth, self-understanding, trust, support, and personal flourishing.
NEWS
VIDEO: GLOBAL FAITH LEADERS COMING TO UKRAINE 12 APRIL 2022 10/04/2022
A delegation of leaders from all faiths are on their way to Ukraine to deliver a message of hope and friendship to refugees.
THE LEADERS OF THE WORLD'S FAITHS HAVE HEARD THEIR CRIES 05/04/2022
In late March, a group of religious leaders were brought together in Jerusalem with the Elijah Interfaith Institute to call for peace in Ukraine. Among the speakers were His Beatitude…
WATCH: 150 FAITH LEADERS SIGN 05/04/2022
PROCLAMATION FOR PEACE IN UKRAINE
The Elijah Interfaith Institute and The Interfaith Center for Sustainable Development met in Jerusalem to bring together Christian, Druze, Jewish and Muslim leaders to call for peace in Ukraine. This interfaith gathering follows the delivery of an interfaith letter to Russian Orthodox Patriarch Kirill, calling on him to speak with President Putin to seek peace. The letter was signed 150 Jerusalem and global religious leaders and clergy, which can be read
London, in conjunction with COP 27
We had the honor of holding
The first ever climate repentance ceremony by high level religious leaders
Sharing the first ever set of spiritual principles for addressing the climate crisis
Holding the first ever interreligious penitential march
Summer School
We were blessed to be able to resume our 25 year old tradition of bringing students from all over the world to Jerusalem for a cutting-edge program of interreligious leadership training.
Praying Together in Jerusalem
And we continue to be blessed, month after month, as we share prayers and teachings from all faiths, East and West, to an audience of hundreds, in Jerusalem and Worldwide