Holocaust Researcher Who Outraged Poland Has No Regrets: 'We Need to Understand Our Past'
21/05/2023 | Na stronie od 21/05/2023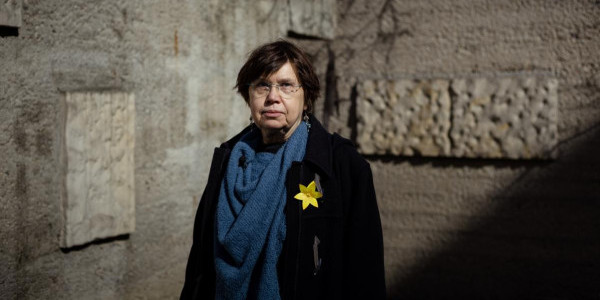 Source: Haaretz
Ofer Aderet
/Get email notification for articles from Ofer Aderet Follow/ May 21, 2023
After receiving an honorary doctorate from Tel Aviv University, Prof. Barbara Engelking, who claims that the Poles 'simply failed' in their treatment of Jews during World War II, tells Haaretz about the threats she has faced from a government trying to court the nationalist right
Prof. Barbara Engelking, who last month voiced criticism of Polish-Jewish relations during World War II, was awarded an honorary doctorate from Tel Aviv University on Thursday. Engelking, who is the founder and director of the Polish Center for Holocaust Research in Warsaw, told Haaretz that she is determined to continue her research into the darkest chapters of her country's history, despite coming under strident attack by leading politicians in Poland. "We need to better understand our past. Holocaust research is in Poland's interest," she says.
Engelking, a 61-year-old, non-Jewish Warsaw resident, was accused by right-wing Polish figures of harming the good name of the Polish nation when she said in a television interview last month that "the Jews were disappointed with the Poles" during the Second World War.
The Polish government marked the 80th anniversary of the Warsaw Ghetto uprising in April, in an official ceremony attended by the presidents of Poland, Israel and Germany. It presented the central narrative of brotherhood between the Jews and the Poles during the Holocaust, and the assistance that the Jewish resistance fighters received from their Polish counterparts.
Engelking provided a different view in her interview with the TVN network, in which she said, "The Poles had the potential to become allies of the Jews – and one would hope that they would behave differently… that they would not take advantage of the situation to such an extent." She continued, "People who decided to help Jews really were heroes, but there were very few of them… There was no atmosphere conducive to hiding Jews."
Immediately after the interview, Engelking was met with a torrent of criticism from every direction, including from Prime Minister Mateusz Morawiecki. Engelking attributes the venomous attacks on her in some of the Polish press and social media to next fall's elections; politicians are trying to court voters from the nationalist right. "I turned into an easy target for reasons that have nothing to do with what I said – it was just an excuse," she tells Haaretz.
"On April 19, the government of Poland was forced to speak positively about the Jews for an entire day. They wore yellow daffodils – a symbol associated with the heroes of the Warsaw Ghetto Uprising – and it clearly bothered them. The next day they had to let off steam," Engelking explains. "They needed to show their nationalist side, also because of the competition with [the extreme nationalist] Confederation Party."
She adds: "I didn't say anything controversial or inaccurate in that interview. All of these things have been known and written about for a long time. I myself wrote on this disappointment that Jews felt toward the Poles in my 1993 doctoral thesis."
Following Engelking's April interview, Polish Education Minister Przemysław Czarnek announced that he would be cutting state funding for the institute that the researcher heads, which is part of the Polish Academy of Sciences in Warsaw. The minister said the government did not intervene in academic affairs, but is under no obligation to fund "activities that harm Poland."
"They have already begun cutting our budget," Engelking says, noting that the research center has not received the $191,000 that it was supposed to. "What will happen going forward? We'll see," she says. "I plan to sue the education minister."
Despite the atmosphere of threats, Engelking is determined to continue her work. "I don't intend to change anything in my life. I intend to continue to apply for grants in Poland. And because the Holocaust, in my opinion, is part of Polish history, I hope that Poland will continue to fund Holocaust research. I think it would be impossible for them to stop this research, and it also runs counter to Poland's interest to do so. Sooner or later, it will be clear to everyone. We need to know and understand our past in order to participate as a mature nation in the life of modern Europe," she says.
Her honorary doctorate from Tel Aviv University was awarded for "her courageous determination to counter Holocaust distortion and expose the complexities of Polish-Jewish relations during World War II, regardless of personal cost." The degree has come in tandem with many letters of support from Israeli Holocaust researchers and institutions, including Yad Vashem. The Hebrew University announced last week that it would also award Engelking an honorary doctorate later this year.
"There is no place for political interference in academic research. The interference of governmental organizations threatens both academia and free society," Prof. Tamir Sheafer, dean of the department of social sciences at Hebrew University, said in a letter of support.
In an opinion piece published in Haaretz this week, former Polish President Aleksander Kwasniewski openly supported Engelking. "Engelking's publications bring Poles closer to understanding the complexity of their own history and strengthen us as a nation and as members of an international community based on dialogue, respect and reconciliation," he wrote.
At the same time, neither the Israeli government nor the Knesset has expressed support for her. "I am getting a lot of emails from acquaintances and strangers, and that's what I focus on. When hateful emails come in, I delete them immediately after reading the first words. I try to distance myself from it." Engelking says she is bolstered by meetings with Holocaust survivors: "They are a source of power and inner strength for me."