Entering solitude and the space of introspection - A Ramadan Special
Invitation to an International Interfaith Online Prayer and Teaching Meeting
07/05/2020 | Na stronie od 05/05/2020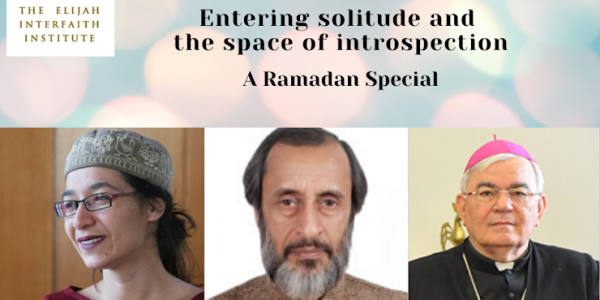 We look forward with great eagerness to the upcoming online session of Praying Together in Jerusalem, scheduled for this Thursday, May 7th, as the next installment of Elijah's "coronaspection" series.
This session's topic will be related to Ramadan and touches on the concerns of COVID-19 as well. We have accordingly chosen the theme of "entering solitude and the space of introspection" as the theme of the session. As it turns out, Jerusalem is coming out of solitude. But the lessons of solitude remain, as does the need for solitude in one's life. We will be joined by people in other parts of the world, still under lockdown.
The following religious leaders will be presenting:
Prof. Muhammad Suheyl Umar, Pakistan
Prof. Muhammad Suheyl Umar is the Director of Iqbal Academy Pakistan and his area of specialty and interests include Sufism as well as the thought of Muhammad Iqbal and the intellectual history of the Indian subcontinent from Shah Waliullah to Iqbal. He is the Founder-Editor of Riwayat, a scholarly Urdu journal; Editor, Iqbal Review, a quarterly journal,focusing on Iqbal studies in addition to Islamic Studies, Comparative Religion, Philosophy, Literature, History, Arts and Sociology.
Bishop Giacinto-Boulos Marcuzzo, Nazareth
Bishop Marcuzzo worked as a chaplain in Beit Jala in the West Bank, in Ramallah and in Malakal in southern Sudan, including as director of the minor seminary. He was also teacher at the Minor Seminary of the Latin Patriarchate in Beit Jala. After he obtained a doctorate, Marcuzzo became a lecturer and rector at the Major Seminary in Beit Jala and was on the faculty of Bethlehem University. In 1994 he became titular bishop of Emmaus-Nicopolis. He resides in Nazareth as patriarchal vicar for Israel.
Rabbi Tamar Elad Appelbaum, Jerusalem
Rabbi Appelbaum is the co-founder of the Beit Midrash for Israeli Rabbis, a joint project of the HaMidrasha Educational Center for Israeli Judaism and the Shalom Hartman Institute. Moreover, she founded Kehilat ZION in Jerusalem. She devotes much of her energy to the renewal of community life in Israel and the struggle for human rights. In 2010 she was named by the Forward as one of the five most influential female religious leaders in Israel for her work promoting pluralism and Jewish religious freedom.
The session will take place on Thursday, May 7th, at 11 am EDT, 4 pm London time, 5 pm Europe time, 6 pm Israel time, 8 pm Pakistan time.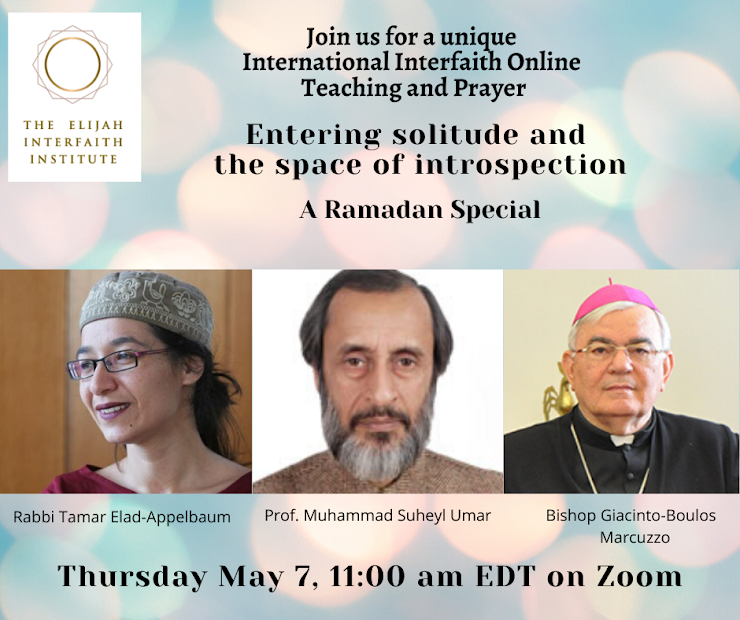 The schedule will be as follows:
11.00 (EDT) pre-meeting - chat rooms open for personal encounters, based on materials that will be disseminated in advance to those who register 11.30 (EDT) program begins 12.30 (EDT) onward - chat rooms are open for unmoderated engagement of individuals across the globe on issues of Corona and global need.
To register, please fill out this form.
You will receive login information, and we will send you materials to prepare the first chat session in small groups.
Once again, we will ask for your feedback, following this session, so that we can improve from session to session.
With prayers for health, security and peace The Elijah Interfaith Institute and Praying Together in Jerusalem