Coronaspection: Introspection XI
01/07/2020 | Na stronie od 01/07/2020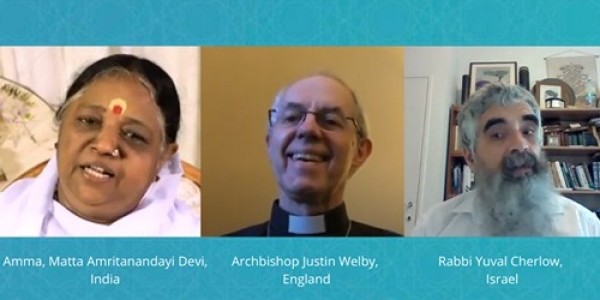 Elijah Interfaith Institute, Israel. From Tablet:
Alon Goshen-Gottstein, Executive Director of the Elijah Interfaith Institute, Israel, is the author of The Jewish Encounter with Hinduism: History, Spirituality, Identity.
**There is a special power in the coming together of religious leaders in their diversity to deliver a message at a given point in time, especially a time of global crisis. Forty important voices are taking part in this project. I am grateful to editors of Tablet magazine for their eagerness to feature the project in its entirety.**
Together, we set out to answer seven questions:
What have been your greatest challenges in dealing with the present Corona crisis?

Corona is bringing out a lot of fear in people. How does one deal with fear? What spiritual advice could you offer to people struggling with fear?

Corona has forced people into solitude. How should time be spent in solitude? Many people do not have experience and habits that would allow them to make the most of this opportunity. What advice could they be given?

Corona brings about deprivation. We are deprived of our freedom, of our habits. We lose things, and even more so- people we love. How does one deal with all forms of deprivation?

What does Corona teach us about our interconnectivity? What are spiritual applications that people can practice consciously?

Corona forces us into our own protective space, but it also calls us to solidarity. How to practice solidarity? What are teachings that support solidarity? What actions express solidarity? What can one do to express solidarity, even from within the confines of one's home and protection?

Many people say the world will be different after this Corona crisis. What blessings do you see Corona bringing to the world? How can the world be different, for the better, following this crisis?
One of the most important conceptual threads that runs through the project is the recognition that for all its hardships, the coronavirus is in some way also a blessing. To uncover that blessing we may need the eyes of the other and the experience of another spiritual tradition and how it is able to find blessing even in hardship.
Introspection 11
Matta Amritanandayi Devi, India
Matta Amritanandayi Devi, or Amma, as she is known all over the world, is one of India's most popular and visible religious leaders. She has inspired and started innumerable humanitarian services. She is known in India and internationally for her special form of receiving people, through a prayerful embrace. Amma's special message for COVID-19 highlights courage in the face of fear, the need for prayer and appeal for divine grace, alongside taking all needed practical precautions. It concludes with the prayer she recommends for these times: "May all beings be happy".
Archbishop Justin Welby, England
Archbishop Justin Welby is the Archbishop of Canterbury, the leader of the Church of England and the symbolic head of the worldwide Anglican communion. "I've never been so busy, or pressurized", says the Archbishop, as he describes the Church shifting its work online. Meeting, learning, praying and community shifts online, with tenfold attendance. In confronting fear, this has been a time of spiritual growth and self-recognition. The sincerity of prayer, in its many dimensions, including lament and protest, allow one to face fear andbreaks the heart open to God's comforting presence.
Rabbi Yuval Cherlow, Israel
Rabbi Yuval Cherlow is head of the hesder Yeshiva Orot Shaul, head of the Religious and Ethics Center in Jerusalem and a prominent voice in the religious Zionist stream of Judaism. Issues of medical ethics are explored in relation to priority of treatment, in response to COVID-19.Religious guidelines can aid medical staff in making crucial ethical decisions. True freedom allows one to rise above all deprivations in external circumstances. Even though prayer in Judaism is largely a public reality, the present situation provides us with the opportunity to deepen our prayer experience individually. At the same time, horizons broaden from our group to all of humanity.
More: